Hail Merry - November 6, 2023
Hail Merry Snacks are Luxuriously Delicious! Here is Why…
Hail Merry tastes better! Our luxurious mouth feel is the signature experience found when biting into a Hail Merry snack. How do we achieve better-for-you snacks that taste so incredibly fresh and delicious? Let's explore why our products taste better and are healthier than other snacks in the market today.
Low-Temp Process Equals Fresh Taste: Hail Merry's products differ from other snack brands because of our low-temperature preparation, which gives our snacks their unique fresh taste and texture. Raw ingredients also retain their nutrient integrity since they've not been exposed to high temperatures or denatured. This low-temp process maintains the whole food value of our snacks and ensures that the enzymes and dietary good fats are not destroyed. Raw ingredients boost higher levels of vitamins, minerals and powerful antioxidants that can return balance to our bodies and boost energy levels.

Pure Ingredients Taste Better: Another extraordinary feature that Hail Merry takes pride in is that we use premium unadulterated raw ingredients to create our products. Unlike other brands, we don't rely on seed oils, low-quality bland tasting processed sweeteners, emulsifiers, fillers or artificial "natural" flavorings and especially dangerous sweeteners like sugar alcohols. Instead, we use pure ingredients like raw nuts, fruits, and organic maple syrup to create snacks with bold and unique flavors that are both LUXURIOUS and healthy. Plus, since we use ultra-clean premium ingredients, our products are safer for people with certain allergies, sensitivities, and dietary restrictions. Healthy Fats Give Luxurious

Mouthfeel: Hail Merry features healthy fats, such as organic virgin coconut oil, which aids in improving brain function and can help with weight loss. We also celebrate the use of raw nuts and nut flours in our products which contain heart-healthy fats and protein. These raw dietary fats not only offer functional benefits but make our snacks more satiating and have a rich mouthfeel.

Higher Quality Sweeteners Deliver More Complexity: Hail Merry's products taste amazing without any fake sugars or sugar alcohols, and we remain dedicated to never using artificial sweeteners–especially dangerous and trendy ones like sugar alcohols. Instead, we use all-natural sweeteners such as organic coconut sugar and organic maple syrup, both are vitamin and mineral rich for a complex flavor and serve as an excellent alternative for those avoiding refined cane sugars. Organic agave nectar is used in our citrus flavored products. Agave is low glycemic and pairs well with the citrus notes in our Meyer Lemon and Key Limes flavored Cups and Tarts. We choose agave for its flavor profile and humectant quality which makes the fillings in our Tarts and Cups super creamy. Best of all, our top selling Key Lime Cups only contain 5g of sugar per Cup!

Hail Merry's line of Cups, Tarts and Coconut Cookie Dough Bites provide a perfect balance of nutrition, freshness and above all else GREAT TASTE! We offer snacks that are not only delicious but are raw AND loaded with functional benefits! Our ingredients are hand-selected for their nutritional value and flavor- making our products stand out! With Hail Merry, you can snack without compromising your health. Don't settle for less, experience the difference of raw eating today!

Can't find the flavor you're looking for? Click here to request Hail Merry in a Store Near You!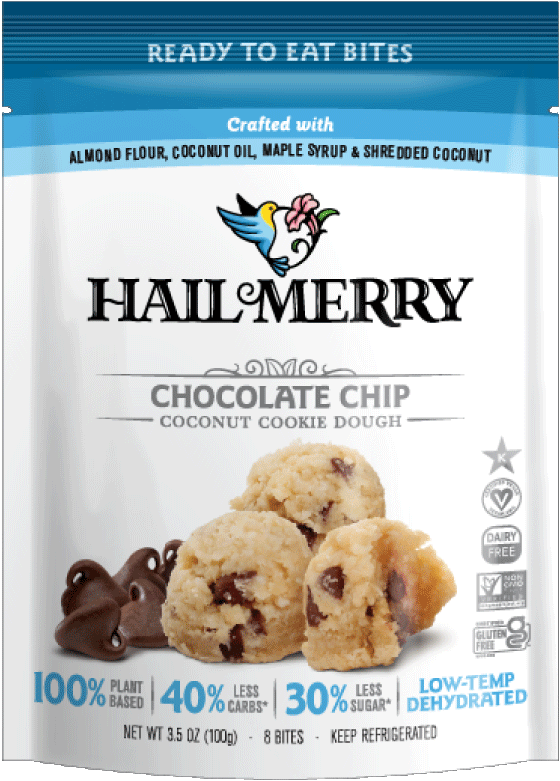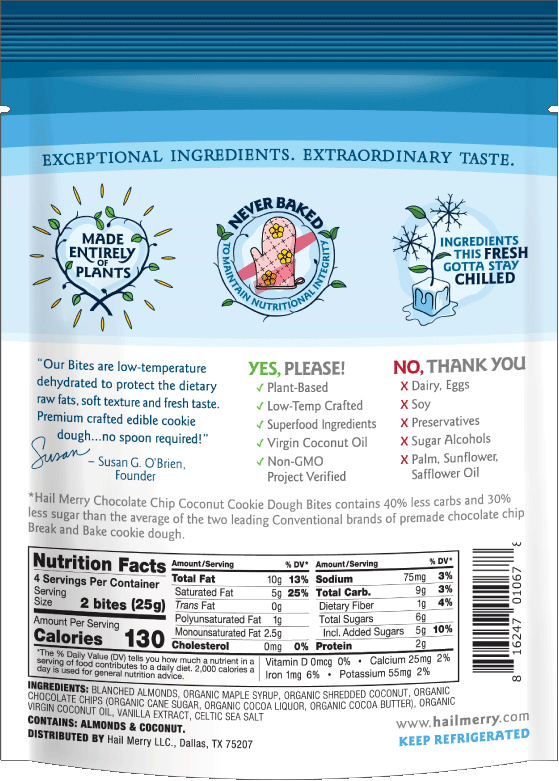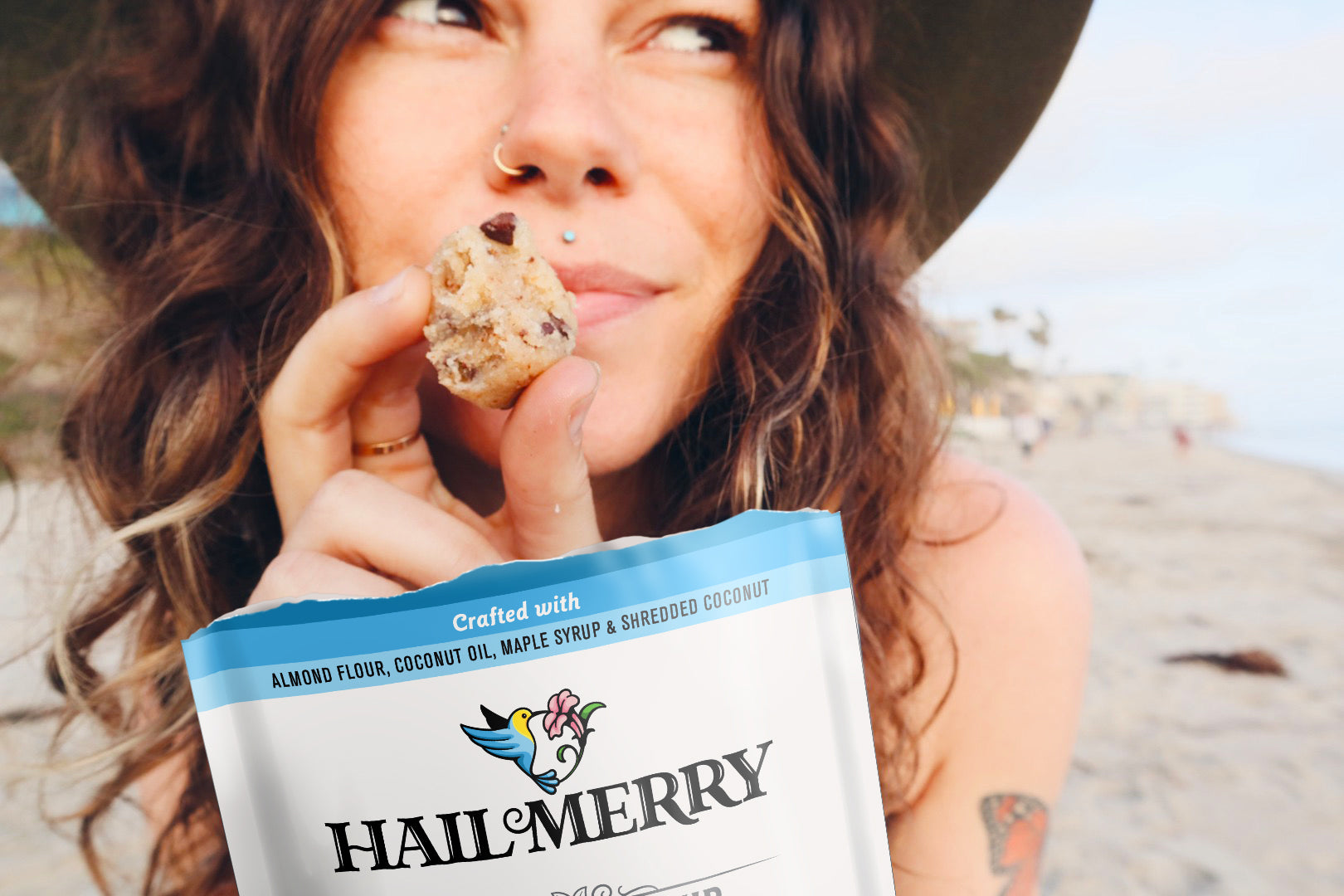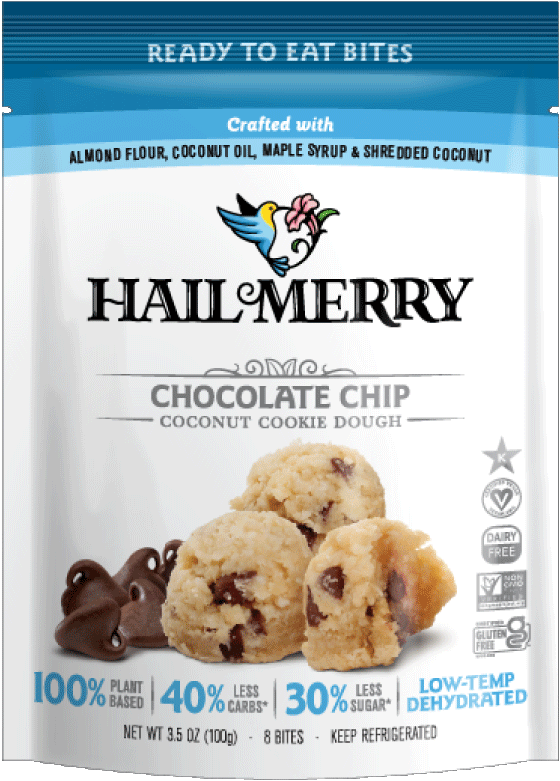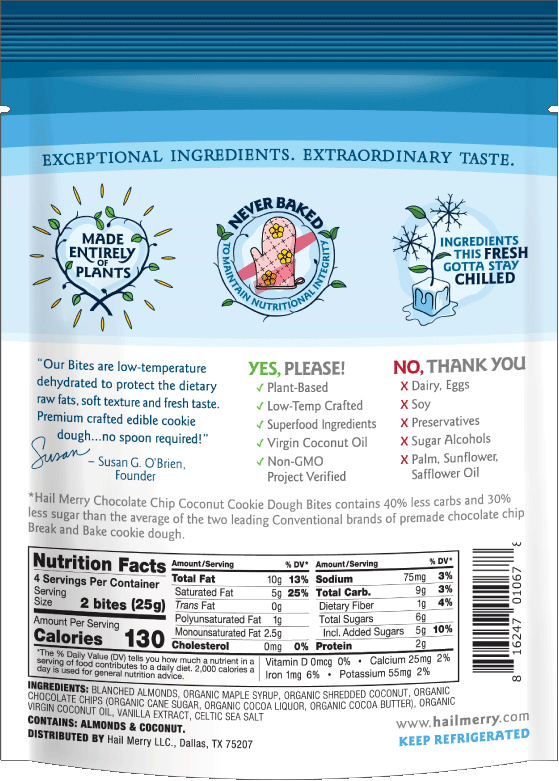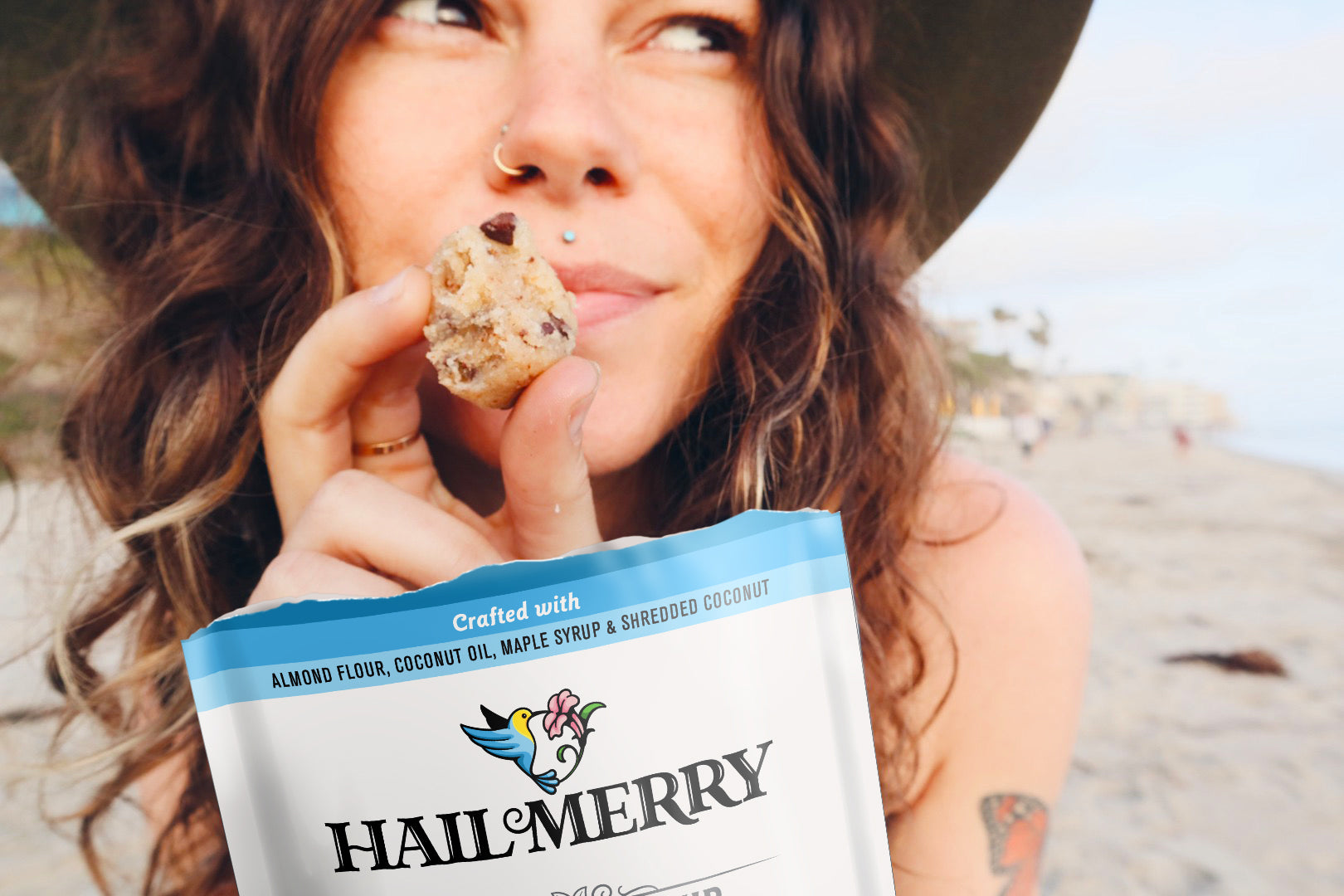 Chocolate Chip Coconut Cookie Dough
View Details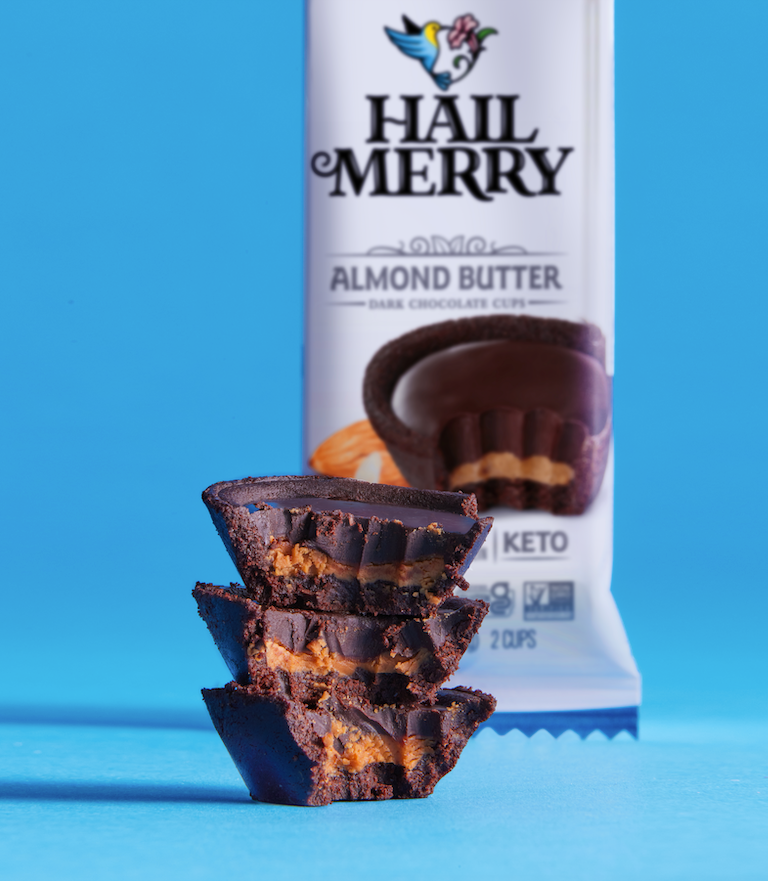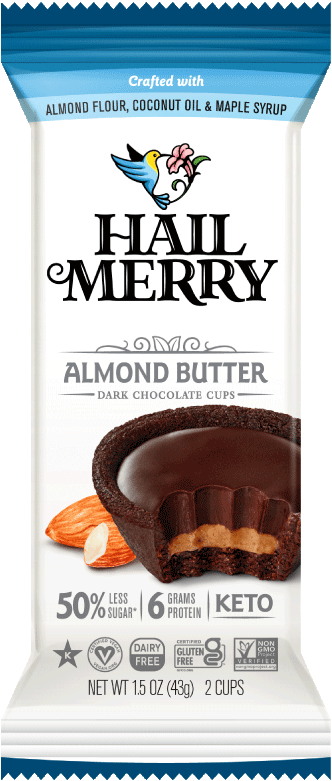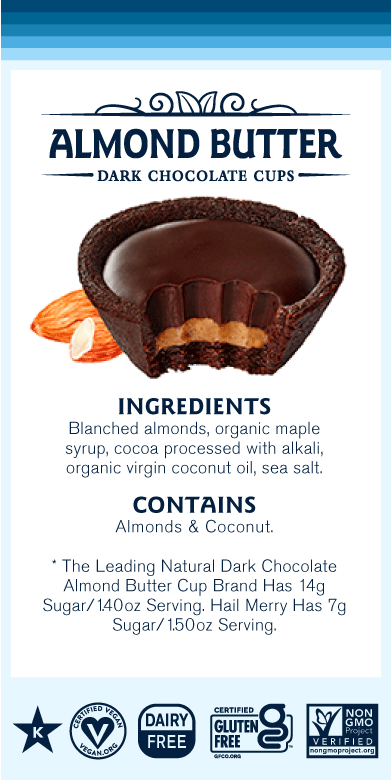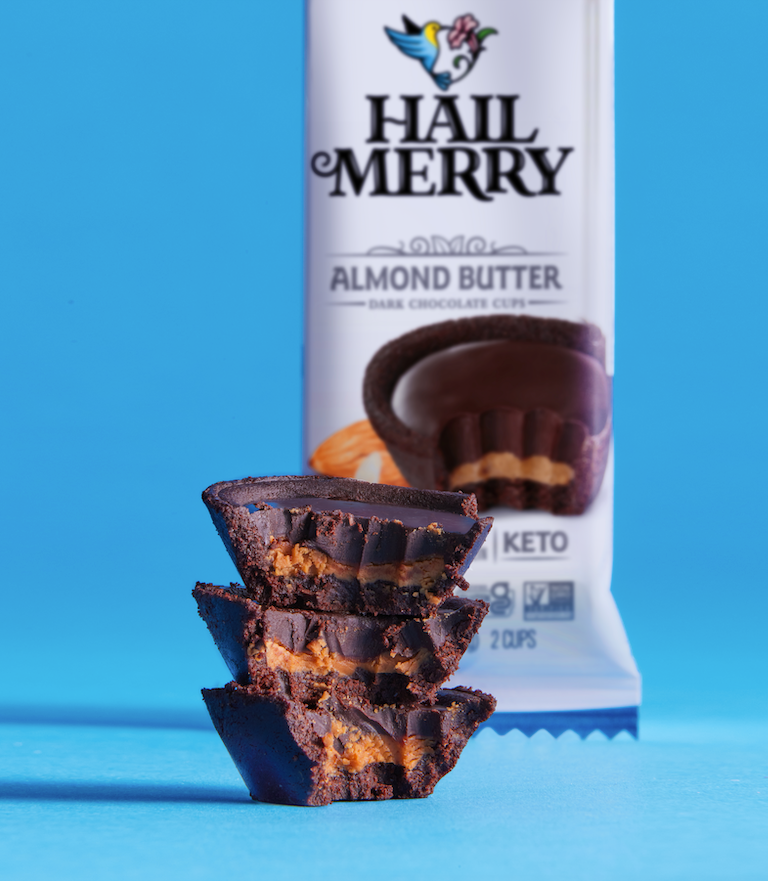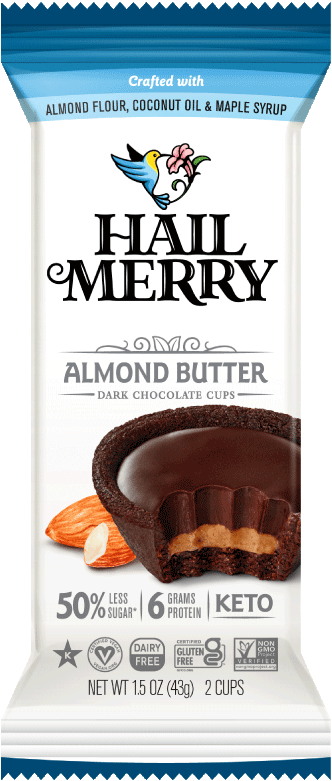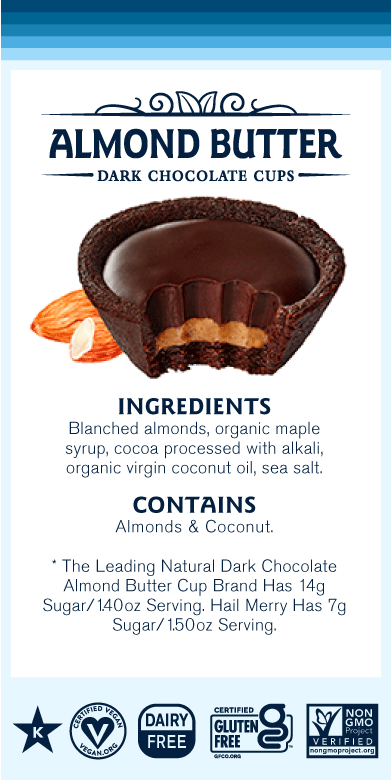 Chocolate Almond Butter Cups
View Details